Selling Your Home, whether in Fort Wayne or Alaska!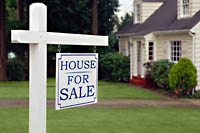 For most families, their home is their largest financial asset, and deciding to sell it is a big decision that involves a lot of preparation and work. When you're ready to sell it's important to have an experienced real estate professional handle the details involved in the successful sale of a home for top dollar, and we can be your resource! And, the time may be now!! Prices are UP!!
As experienced professionals who have helped many Fort Wayne residents sell their homes, we know how to handle every aspect of the sales process - from strategically marketing and showcasing your home to making sure everything's signed, sealed and delivered by the closing date. We have the most up to date "staging" resource for you use to make your home outshine the competition. We can even refer you to a very well qualified realtor in another area!
We sometimes meet hard pressed Ft. Wayne neighbors who are facing foreclosure. Don has received a Certified Short Sale Specialist Designation to personally help these citizens who, usually by no fault of their own, have come into real need to sell their property. If you know someone in this situation, please ask them to call Don to see if we can save their credit with a Short Sale and provide all the guidance in this troubling time.
Providing you with comprehensive, high-quality listing service is our priority. So when you decide to sell your home, please contact me and let's get started!
We can also set you up with computerized searches that come to your home about your competition. You will see the homes that are available, as they go underagreement and what they looked like inside and out, their days on market and current listed price. After their closing, it will send you the sold price so you, too and this will be 24/7 up to date. Please contact us today and we'll get you started!
The following articles are a great place to start if you're looking for information about the sales process and how you can get more for your home when you decide to sell.